iBUYPOWER offer high-end specified hardware at an insanely affordable price in their Slate 9210 gaming PC.  In this review, we'll take a closer look at what you get as well as what kind of performance you can expect.
Name: iBUYPOWER Gaming PC Desktop Slate 9210 (i7-8700K, GTX 1070 Ti 8GB, Liquid Cooled)
Date First Available: March 2018 (From Amazon)
Category: Gaming Computer
Price: 
Check on Amazon from Amazon
iBUYPOWER Slate 9210 Gaming PC Desktop Review
The iBUYPOWER Slate 9210 gaming desktop is a prebuilt PC for gaming enthusiasts and comes with some pretty cool perks like RGB case lighting and CPU liquid cooling. This PC comes with higher-end hardware models that are capable of overclocking and may also come with additional features – but just be aware that some of these extra luxuries do come at a slightly higher price point.
While the hardware is amazingly good, it is worth remembering that for some people, there may be no sense in paying extra for these premium specifications if you aren't going to use all of their features.
Unfortunately iBUYPOWER keep their hardware specifications generic – which means you don't know the specific manufacturer or model of the hardware that you're getting (and that ultimately means that you can't know which extra features will be available to you or not).
For most people though, this is a small price to pay for the premium performance hardware that you're getting with this prebuilt.
iBUYPOWER Slate 9210 Gaming PC Desktop Review
PCBA's Rating
Perfect for those who want a formidable gaming rig and enthusiasts who would like to try their hand at overclocking, the Slate 9210 gaming computer comes with powerful high-end hardware and even includes RGB lighting that you can customize to your liking.
⊕ Powerful graphics card for gaming
⊕ Z-series high-end/gaming motherboard
⊕ Intel i7-8700K (overclockable)
⊖ No optical drive
⊖ May have a lower quality power supply
⊖ Specific hardware models/manufacturers may vary
The Slate 9210 is the next level up when it comes to gaming computers, with an overclockable liquid-cooled CPU and powerful graphics card.

 
STORAGE
1TB HDD|240GB SSD
Windows 10 Home
Onboard Wi-Fi
Comes with keyboard & mouse
Liquid cooling
16 Color RGB LED lighting
Tempered glass side panel
VR Ready + Overclockable
1 yr warranty|Lifetime support
Read more >>
Introduction
iBUYPOWERs Slate 9210 gaming computer is undoubtedly a beast; the graphics card is a higher-end performer and the liquid-cooled CPU is powerfully fast and overclockable. To complement these, you get a Z370 series motherboard which will typically have extra features over lower chipset models, and 16GB of RAM which is more than enough to play even the more demanding AAA tier games.
Color-changeable remote control LED case lights complete the package, and tempered glass side panels on the case make for an epic looking tower.
Pros
Price
Good CPU
Good graphics card
Low power usage and temperature
Cons
No optical drive
No specific manufacturer/models for hardware not specified
Case may suffer from heat management issues
May have a low-quality PSU and wifi adapter
Who Is It For?
This Slate 9210 offering by iBUYPOWER is a higher-end gaming computer which is aimed at enthusiasts and those who want premium parts. It's also a complete out-of-the-box solution that is plug-and-play since it comes with Windows 10 pre-installed as well as a keyboard and mouse.
We'd say it's aimed at beginner or mid-level gamers who may not know a whole lot about hardware just yet, but are interested in getting premium hardware to play around with modifications (like overclocking). More serious enthusiasts who are more experienced when it comes to hardware and know exactly what they want may prefer to look elsewhere, since iBUYPOWER don't guarantee which specific hardware models (and therefore features) you'll get.
For these reasons, we'd recommend the Slate 9210 to people who would like to dabble or just tinker when it comes to tweaking and overclocking their PC to improve performance.
Who Isn't It For?
We've already mentioned that those who are a bit more picky about their hardware may want to have a bit more certainty on what specific parts they're getting, so the Slate 9210 may not suit people in this group.
At the other end of the scale are entry-level gamers who don't ever plan to play around with the hardware inside their computer case. With iBUYPOWERs Slate 9210, you are getting higher-model hardware such as a CPU and motherboard which are specifically designed for overclocking (and priced accordingly).
If you are never going to see yourself using these features, then your money may be better spent elsewhere (or kept in your pocket).  That being said, there aren't a lot of cheaper prebuilt options available that have such a good graphics card, so the Slate 9210 may still be your best option.
What You Get
Hardware
The iBUYPOWER Slate 9210 comes with quality hardware that you would expect from a prebuilt computer in this price range:
Hardware Summary
| | |
| --- | --- |
| GFX | GTX 1070 Ti 8GB |
| CPU | Intel i7-8700K |
| RAM | 16GB DDR4 |
| Storage | 1TB Hard Drive | 240GB SSD |
| MBU | Z370 Motherboard |
| PSU | 500W |
| Other | Liquid Cooling |
Processor (CPU)
The Intel i7-8700K used in this build is a six-core 3.7GHz processor with a 4.7GHz max turbo speed and 12MB of SmartCache which can be called upon when needed. This CPU was released in quarter 4 of 2017 and is an 8th generation "Coffee Lake" unit.
Products from Amazon.com
‹
›
Intel's Core i7 range of processors are the next step up from their Core i5's (which are commonly used in entry and mid-level gaming PCs). Core i7 CPUs are typically more expensive than i5's because they have more capabilities such as hyperthreading and larger cache sizes, making them faster when it comes to multitasking and high-end gaming.
While Core i5's are for those who want performance on a budget, the Core i7's are more aimed towards enthusiasts and high-end users who are after customizable peak performance and don't mind paying a little more to get it.
The 'K' series, which is what the i7-8700K CPU is, is an unlocked version which will allow manual overclocking.
Graphics Card (GFX)
The Slate 9210 comes with a GTX 1070 Ti 8GB version graphics card, which was released in November 2017. This card currently retails for around the $500 mark at the time of writing (depending on which brand you purchase), which makes it around 1/3 of the total cost of this computer; a budget split that you would expect from a good gaming build.
Being the Ti version, the GTX 1070 Ti performs better than it's GTX 1070 predecessor, as we can see by the benchmark scores below.
The Ti versions of NVIDIA cards generally fall between sequential graphics card models, in this case the GTX 1070 Ti is nearing the performance of a GTX 1080 card, but at a lower cost (this Ti model offers a slightly better performance per dollar spent).
Since this is the 8GB version of the card, users will have plenty of video card memory that will make for smooth gameplay even at the high resolutions such as 1080p. 4K gaming is also possible (although if you are still running on the highest settings it won't be as smooth as gaming in 1080p).
Motherboard (MBU)
iBUYPOWER have included a Z370 series motherboard in this build. While a specific brand/manufacturer for the motherboard is not specified, users are assured of a high-end model motherboard in this series. Note that within this Z370 chipset range, you can still get cheaper and more expensively priced motherboards. More expensive ones will have better features available.
When it comes to Intel CPUs, there are several options for a supporting motherboard chipset which includes the H, B, Q, Z, and X chipset series (listed in order of increasing price/features).
H series – basic chipset good for budget-conscious builds, no overclocking support.
B/Q series – business oriented chipset series, no overclocking support.
Z/X series – high-end/gaming chipset with overclocking support and other features.
The Z370 series chipset is aimed at those who like to tinker. It will allow you to overclock the CPU in this computer at a later date if you choose to and may come with additional features like memory overclock, dual graphics cards, more PCI-E lanes, RAID storage options, potential USB ports and other connectors (though the specific additional features will depend on the specific model and manufacturer).
While this chipset also can handle multiple graphics cards, it depends on the specific brand of the motherboard as to whether this is available on the particular motherboard model you are provided with.
Since iBUYPOWER don't specify a particular brand of motherboard that is supplied, it is possible that you could still be limited by the motherboard if you choose to modify/upgrade the Slate 9210 in the future. If this matters to you, then we suggest inquiring to the seller on the specific brand of motherboard that will be supplied.
However, this higher-end motherboard may be considered overkill for some, as you pay a premium for this enthusiast's board. If you aren't going to ever use or need the extra features it offers, this is probably money wasted that would be better spent elsewhere or kept in your pocket.
Liquid Cooling
The specific liquid cooler is not specified for this computer, but we've seen reports of both 'unbranded' and Corsair H60 models being used in some of these models (brands may change due to availability), which may give users an idea of what to expect.  These are an all-in-one solution that runs tubes from the CPU 'heatsink' section to a radiator and fan arrangement on the rear of the case.
The cooler fan should be set up to bring cold air from outside the case over the radiator fins to cool the liquid.
If you are reading through prior reviews and comments on the Amazon product listing, it appears that this listing was previously used for prior models (some of which did not include liquid cooling before March 2018), so be aware that not all comments are relevant to the latest model.
Note that only the CPU is liquid cooled, and we've seen some reports of poor heat management in the case due to a lack of fans (only a single fan for the liquid cooling radiator exists). This means heat generated from other components such as the graphics card may have a hard time escaping from the case.
Memory (RAM)
The Slate 9210 comes with 16 GB of DDR4 memory; which is an ample amount to handle pretty much any game out at the moment, so you shouldn't have to worry about bottlenecks due to RAM.
As with the motherboard, the specific RAM brand and model is not listed, which means you may receive whatever brand is available to iBUYPOWER at the time the computer is built. We've seen reports that it is supplied in a 2 x 8GB stick configuration, but this may vary depending on availability of parts.
Due to this uncertainty, it's difficult to analyze the speed/latency etc. specifications of the RAM supplied, but this shouldn't really matter to most users – unless you plan to do RAM overclocking at some point the stock supplied RAM will provide adequate performance.
However, if you are concerned about the specifics of the RAM then we recommend contacting the seller to check on what exactly will be supplied prior to ordering.
Storage
What we like about the Slate 9210 is that it comes with a solid state drive (SSD), which you would certainly expect for a PC in this price range.
This computer actually comes with two separate drives – a larger capacity 1TB 7200RPM hard disk drive (HDD) and a smaller 240GB SSD.
SSD's are much faster than HDDs, but they tend to also be more expensive per GB of storage space. A typical arrangement is to install your operating system (in this case Windows 10) and commonly used programs on the faster SSD, and then just use the slower HDD for storing larger files and media that aren't used as often.
While you should see fast performance and boot up times from this PC, just be aware that accessing files which are stored on the HDD may be somewhat slower.
Power Supply (PSU)
iBUYPOWER don't specify the brand of power supply that comes in the Slate 9210 but they do state that it has a 500W capacity and that the brand may vary.
This immediately raised some concern for us especially since saving money by putting in a cheap power supply is extremely common on these kind of PC offerings.
Buyers should be aware that many pre-built computers can come with low-quality power supplies that are unreliable. Left unchecked, this could potentially cause damage or shorten the life of the other hardware components in your computer, especially if the power supply happens to fail catastrophically.
We'd recommend checking out the brand of power supply that comes in your computer and doing your own research to determine if you think it's worth replacing or not.
If you plan on upgrading this computer in the future, you may need to upgrade the power supply to a larger unit at the same time. We recommend power supplies from EVGA as these generally come with several years of warranty and are a reputable brand.
Products from Amazon.com
‹
›
Since this computer is quite expensive, you may also want to look into surge protection for your computer to protect your investment.
Other Inclusions
WIFI and Connectivity
'Built-in' 802.11AC Wi-Fi is provided via a USB wifi adapter inside the case.
Gigabit Ethernet (LAN) wired connection.
Operating System 
Windows 10 Home 64-bit comes pre-installed.
Other
The system comes with customizable RGB LED case lighting. A remote control allows you to select between 16 different colors.
Case
The case appears to be an iBUYPOWER branded offering and comes with red LED lighting on the front panel as well as a clear tempered glass side panel to allow the hardware components inside to be seen. It's worth noting that the drive bays seem to be oriented vertically rather than horizontally, so if you are planning on putting in an optical drive at a later date, it may need to sit sideways and you may also have to remove the front panel to access it.
Height: 18.7 in (475 mm)

Width: 8.26 in (210 mm)

Depth: 19.29 in (490 mm)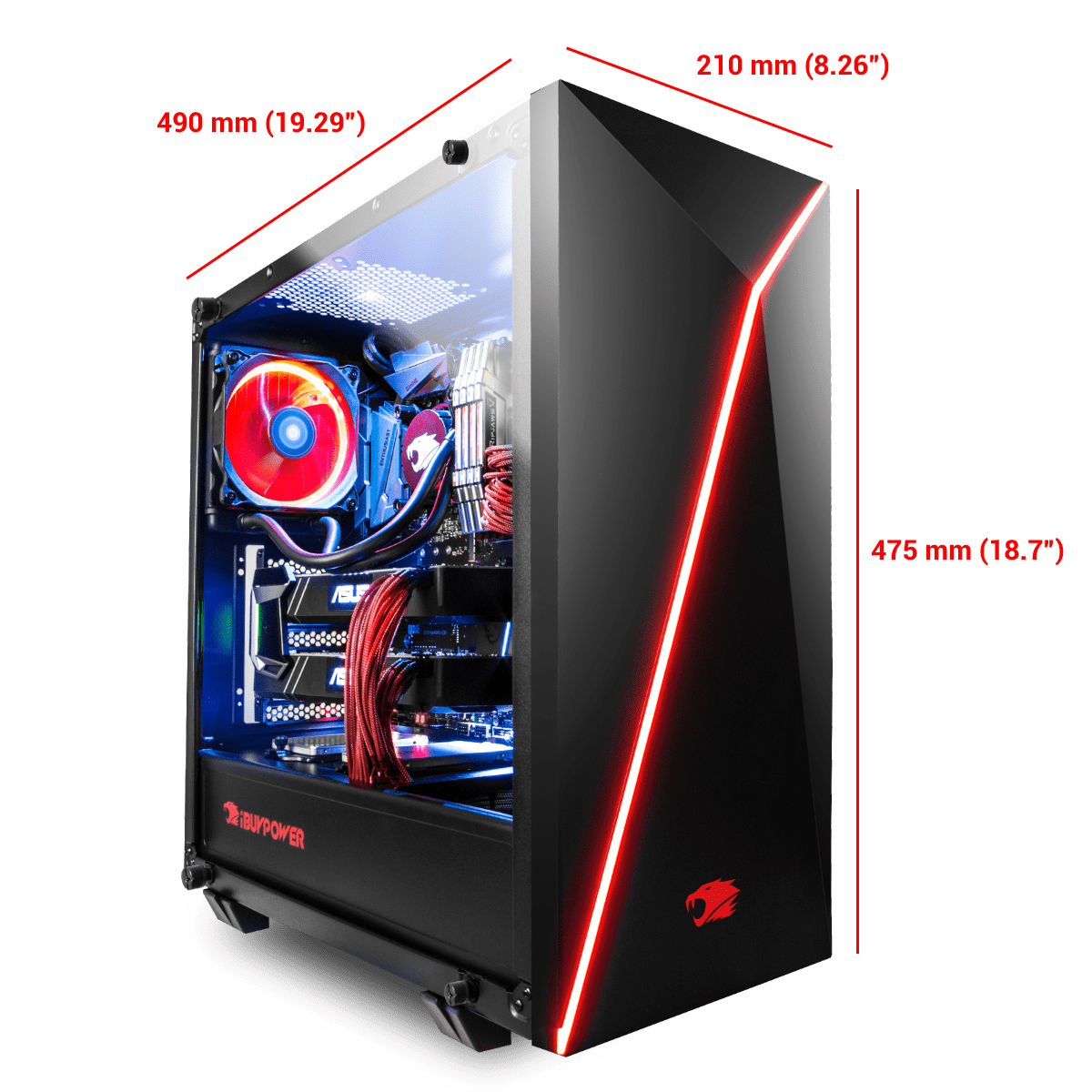 Peripherals/Accessories
The Slate 9210 package comes complete with an iBUYPOWER branded gaming keyboard and 3200 DPI optical gaming mouse which were designed with gamers in mind. The keyboard has additional function keys for setting hot keys and macros, and the WASD keys are red for reference.
Support/Warranties
iBUYPOWER offers a 1 year warranty on parts and labor. This computer also comes with free lifetime technical support.
Performance
Let's take a look at the performance and benchmarks of the iBUYPOWER Slate 9210.
Usage
Slate 9210 is a high-level, overclockable gaming PC which should be capable of playing all of the latest games out of the box. The powerful Nvidia GTX 1070 Ti 8GB graphics card gives excellent performance for gamers.
Where it excels:
1080p Gaming (Full HD)
4K Gaming (though lower settings may be required to maintain higher frame rates)
Low noise
It's also capable of:
High-resolution gaming (e.g. 4K) on high settings – depending on the game you may experience lower frame rates
Streaming games via Nvidia ShadowPlay
Running other demanding programs (e.g. photoshop, CAD programs etc.)
May struggle with:
Heavy gaming/tasking – heat management within the case may become an issue
Wifi signal and speeds – the provided adapter apparently performs better if it is relocated from inside the case to outside (for better signal), but some people have reported slow speeds.
What Games Can It Play?
The Slate 9210 by iBUYPOWER is considered to be a higher-end gaming computer for enthusiasts and given the higher-end hardware you can expect it to be able to play all new games on high settings while still getting smooth gameplay. The 8GB GTX 1070 Ti card has plenty of video card memory that will allow decent frame rates even when playing at 4K resolutions.
Titles such as Fortnite, PUBG, Overwatch, GTA, League of Legends, Battlefield, COD, Fallout 4 and more.
A good way to check on how this hardware might run games you commonly play is to check youtube to see if there are any gameplay videos using the same CPU and graphics card. This will give a rough idea of what to expect. Here are a few examples:
PUBG at 1080p
Fortnite at 4K
Far Cry 5 at 1440p
Upgradeability
iBUYPOWER have put together the Slate 9210 with gaming enthusiasts in mind, so you're getting top-of-the-line premium offerings on some hardware components.  The CPU and motherboard specifically are designed for overclocking, so let's take a look at some potential upgrades.
Recommended Upgrades (Short Term/Immediate)
There's nothing too immediate that we'd recommend upgrading on this computer other than the power supply, which is most likely a cheaper brand. We've seen some reports of these power supplies faulting, so if you don't want to take any risks, it might be worth swapping it out.
Power Supply Replacement/Upgrade
Replacing the stock power supply should be simple and we've written a guide for replacing a PSU if you want to check that out first. EVGA is a brand of PSU that we'd recommend, and if you plan on adding in any extra hardware components or even overclocking in the future you may want to opt for a slightly larger PSU size as well.
Future Upgrade Pathways
While this computer is powerful enough to run any AAA title out of the box, it is specifically built with parts that can be tinkered with; i.e. overclocked.
The CPU itself supports overclocking, but you may need to check that supporting hardware (such as coolers, specific motherboard etc) can also allow the amount of overclocking you want to try. As well as overclocking, you may want to play around with some of the following upgrades at some point:
Heat Management
This PC has been reported to run hot when playing some games, so you may want to monitor the temperature of some hardware components to make sure they stay within safe limits. If not, look at installing one or more extra case fans to improve airflow inside the case. While the CPU is liquid cooled, the graphics card isn't, so will still need some way to get rid of heat that it generates.
RAM upgrades
With 16GB of RAM, you probably won't need to update RAM for many years, but if you do find it to become a bottleneck you may want to swap in or add extra RAM sticks. If you want to overclock the RAM you might only be able to do so within the supplied RAM's limits. Remember – upgrading your RAM will only improve the speed of the computer if it's currently running low on RAM!
Optical Drive Installation
Since this build doesn't come with an optical drive, you may want to put one in at some stage. Although it doesn't come with a drive for reading discs, some software is oddly enough supplied on CD, which would really have been more useful if it were on a USB drive instead.
Other Upgrade Considerations
The keyboard and mouse that comes with this PC are marketed as gaming devices, but they are still somewhat basic. You may wish to update to a more premium gaming keyboard or mouse. Check out our article on gaming mice here for ideas.
Pricing/Value
Overall, the Slate 9210 gaming desktop PC provides excellent value for money, since to build a computer with these specifications yourself would probably cost about the same or more than this offering (and that's usually not even including an operating system, case, peripherals and 1 year warranty).  If you can get this computer on sale it becomes even more of a no-brainer in value.
Check out the current price using this link to Amazon – they occasionally have sales so you may get lucky.
Alternative Products
The only alternative we'd recommend to the Slate 9210 is maybe the Slate 9200 if you are tight for a budget. It is slightly cheaper but you won't get the 'Ti' version of the GTX 1070 graphics card. CyberpowerPC's offerings in the same approximate price range (here) just doesn't seem to be as good value for money, as you get a less powerful video card and aren't given the Z series motherboard.
Summary/Overall Impressions
The Slate 9210 gaming computer offers premium hardware for enthusiasts at a price point that is difficult to beat even for DIY-assemblers, but remember that you are paying a premium for hardware that is full of extra features – which may not be worth it for those who have a tighter budget and don't ever see themselves playing around with modifications like overclocking. It's premium in some areas (the CPU, graphics card, and motherboard), but could potentially be budget in others where specific manufacturers/models are not listed (power supply, maybe RAM, cooler, and others).
It's a high-end pre-built gaming system which is plug-and-play and will suit entry and mid-level gamers who can see themselves venturing into future overclocking and modification for gaming enthusiasts.
Reference: Other Specifications
Show details
Full name:
 iBUYPOWER Gaming PC Desktop Slate 9210 (i7-8700K, GTX 1070 Ti 8GB, Liquid Cooled)
Model number: Slate 9210
Main Specifications: i7-8700K 6-Core 3.7 GHz, GTX 1070 Ti 8GB, Z370 Motherboard, 16GB RAM, 1TB HDD, 240GB SSD, Liquid Cooled, WiFi, Win 10 64-Bit, RGB
Audio: Audio: 7.1 Channel
Connectivity: Gigabit Ethernet, 802.11 WiFi
Other: Liquid Cooling, Remote controlled RGB lighting
Dimensions: Height: 18.7 in (475 mm), Width: 8.26 in (210 mm), Depth: 19.29 in (490 mm)
Weight: 30 lbs (13.6 kg) (packaged unit)